The Life and Work of Elizabeth Siddal
In an Artist's Studio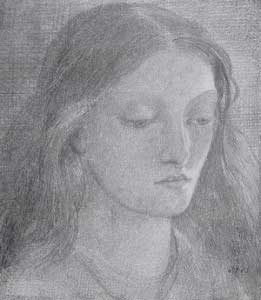 Head of Elizabeth Siddal, Dante Gabriel Rossetti, 1860
One face looks out from all his canvases,
One selfsame figure sits or walks or leans:
We found her hidden just behind those screens,
That mirror gave back all her loveliness.
A queen in opal or in ruby dress,
A nameless girl in freshest summer-green,
A saint, an angel --every canvas means
The same one meaning, neither more nor less.
He feeds upon her face by day and night,
And she with true kind eyes looks back on him,
Fair as the moon and joyful as the light:
Not wan with waiting, not with sorrow dim;
Not as she is, but was when hope shone bright;
Not as she is, but as she fills his dream.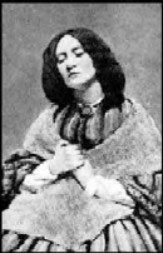 Photograph of Elizabeth Siddal
Christina Rossetti wrote this poem about her brother, the artist and poet Dante Gabriel Rossetti, and his muse, Elizabeth Siddal. For years Siddal was known primarily as the woman who modeled for Rossetti and his fellow painters and was perhaps better known for her morbid postmorten experience than for anything she accomplished in life. Today, Siddal has become a sort of feminist icon, the subject of biographies, her work resurrected by galleries and websites.
Elizabeth Eleanor Siddall was born in 1829; she later shortened her last name to "Siddal." A young woman of working-class background, she found employment as an assistant to a milliner. In 1849, a young artist named Walter Deverell happened to walk into the shop and asked her employer if her assistant would model for him.
Deverell was a student of Rossetti's. Rossetti, along with fellow artists John Everett Millais and William Holman Hunt, had formed what they termed the "Pre-Raphaelite Brotherhood" in 1848 as a reaction to the Royal Academy's formulaic approach to painting and its emphasis on perfection typified by Raphael and the Renaissance masters. The PRB's goal was to bring art back to a more medieval sensibility, one that sought creativity and spirituality. They tended to stay away from landscapes and portraits and paint what they considered more worthy subjects, such as scenes from Shakes-
peare, romantic poetry, medieval legends such as King Arthur, and the Bible.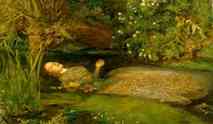 Ophelia, John Everett Millais, 1851-52
Siddal soon became a popular model for the PRB. She can be seen as Viola in Deverell's Twelfth Night, Sylvia in Hunt's Valentine Rescuing Sylvia from Proteus, and most most famously, Ophelia by Millais, where she posed for hours in bath water that had turned icy. She developed a serious cold afterward and apparently never completely recovered.


Portrait of Miss Siddal, Dante Gabriel Rossetti, 1855


Self-Portrait, by Elizabeth Siddal, 1854
Curiously, Siddal was not considered beautiful by the standards of her day. The male artsts of the PRB painted an idealized version of her visage; she painted herself far more realistically.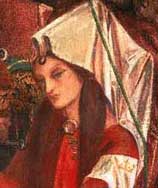 Close-up from The Tune of The Seven Towers, Dante Gabriel Rossetti, 1857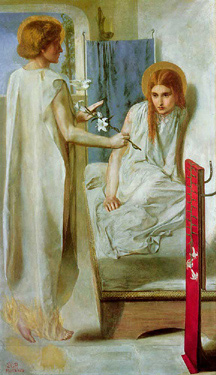 Ecce Ancilla Domini, Dante Gabriel Rossetti, 1849-50
Life seemed to take a propitious turn for Siddal. She and Rossetti became lovers, living together in Chatham Place. He drew her incessantly; she appears in his works Ecce Ancilla Domini, The Wedding of Prince George and Princess Sabra, How They Met Themselves, The Tune of the Seven Towers and Dantis Amor. Both he and John Ruskin, the influential poet, author, artist and art and social critic, encouraged her to paint and exhibit her works and write her own poetry.
As the years passed, however, Siddal and Rossetti became less congenial toward each other. Rossetti was reluctant to propose marriage, supposedly in part because of Siddal's working class background. Siddal was also suffering from increasingingly poor health. She could apparently be needy, demanding, and somewhat irritating. "In an Artist's Studio" notwithstanding, Christina Rossetti disliked Siddal for the most part.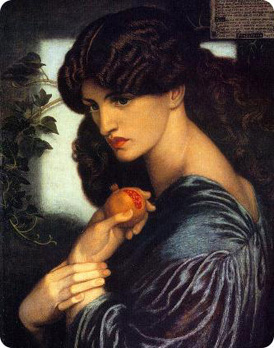 Prosperpine, Dante Gabriel Rossetti, 1874, modeled by Jane Burden
Siddal's situation became more bleak with the passing years. As she approached 30, she was facing life as an unmarried, not quite respectable woman, and was now addicted to laudanum, a liquid form of opium used to dull physical pain and emotional distress. Meanwhile, Rossetti was having affairs with other models and had fallen in love with the PRB's latest "stunner," Jane Burden. However, in 1860 Rossetti did marry Siddal, in all likelihood out of sympathy for her plight rather than for love. Jane, who most likely returned Rossetti's affections, married his friend, the artist, writer and craftsman William Morris.
Siddal reached her emotional abyss after giving birth to a stillborn daughter in 1861. Several months later Rossetti returned home one night to find her dead, either by an accidental overdose of laudanum or suicide. She was 32 years old.

Beata Beatrix, Dante Gabriel Rossetti, 1863
Rossetti blamed himself for Siddal's death. In his grief, he plunged a manuscript of poetry he was working on into her coffin. He then painted the Beata Beatrix as a memorial to her.
By 1869, Rossetti had gone from a Romantic idealist to a balding, middle-aged man having an illicit affair with Jane Morris, the wife of his friend and colleague, his career a shadow of what it had been. His thoughts turned to the buried manuscript of poetry, and at the encouragement of various colleagues, he finally ordered the exhumation of Siddal's coffin in order to retrieve it.
Rossetti was not present when her coffin was exhumed in the dead of night. Rumor has it that she was perfectly preserved, her hair as red as ever; waist-long when she had died, it had continued growing till it nearly filled the coffin. Rossetti, however, writes about finding worm holes in the manuscript.
The poems were published but did not do well commercially or critically, and Rossetti never got over the fact that he'd had Siddal exhumed. Now addicted to laudanum himself, he attempted suicide by taking an overdose in 1872 but survived. He died twenty years later, a wasted version of his former self.
Siddal's Art and Poetry
Siddal's poetry is that of one suffering from melancholia, if not out and out clinical depression. Yet it more than effectively captures her angst, despair and alienation, as well as her anger and pride. Her art, while a bit short on technique, has an eerie, other-worldly quality.
While she is not considered to be in the same league as the men of the PRB, one has to wonder what she could have achieved had she lived in a time when women could forge an identity beyond the traditional female role accorded to them by society and had the opportunity to study and be considered as artists in their own right, not just enchanting faces staring out of canvases.
To feminists she represents a woman twice wronged, in life and in death, a woman forced to live in the shadow of her male peers, a girl who gives her love but sees that love returned only to her idealized self: "Not as she is, but as she fills his dream." Once she becomes a real person and her beauty fades, she is emotionally abandoned by her lover who chooses to seek out newer, younger, and possibly less demanding cohorts. Or perhaps Siddal is not so much the victim but a woman who could not save herself from her own inner demons. At any rate, one cannot help but sympathize with someone whose life, once so full of promise, went so wrong.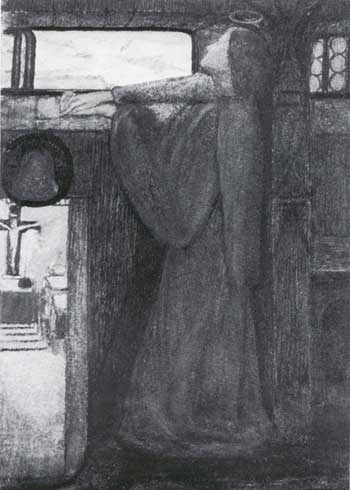 St. Agnes Eve
Poems by Elizabeth Eleanor Siddal

A Silent Wood
O silent wood, I enter thee
With a heart so full of misery
For all the voices from the tree
And the ferns that cling about my knees.
In thy darkest shadow let me sit
When the grey owls about thee flit;
There will I ask of thee a boon,
That I may not faint or die or swoon.
Gazing through the gloom like one
Whose life and hopes are also done,
Frozen like a thing of stone
I sit in thy shadow – but not alone.
Can God bring back the day when we two stood
Beneath the clinging trees in that dark wood?
A Year and a Day
Slow days have passed that make a year,
Slow hours that make a day,
Since I could take my first dear love
And kiss him the old way;
Yet the green leaves touch me on the cheek,
Dear Christ, this month of May.
I lie among the tall green grass
That bends above my head
And covers up my wasted face
And folds me in its bed
Tenderly and lovingly
Like grass above the dead.
Dim phantoms of an unknown ill
Float through my tired brain;
The unformed visions of my life
Pass by in ghostly train;
Some pause to touch me on the cheek,
Some scatter tears like rain.
A shadow falls along the grass
And lingers at my feet;
A new face lies between my hands –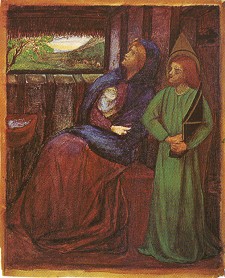 The Holy Family,1854

Dear Christ, if I could weep
Tears to shut out the summer leaves
When this new face I greet.
Still it is but the memory
Of something I have seen
In the dreamy summer weather
When the green leaves come between:
The shadow of my dear love's face –
So far and strange it seems.
The river ever running down
Between its grassy bed,
The voices of a thousand birds
That clang above my head,
Shall bring to me a sadder dream
When this sad dream is dead.
A silence falls upon my heart
And hushes all its pain.
I stretch my hands in the long grass
And fall to sleep again,
There to lie empty of all love
Like beaten corn of grain.

He and She and Angels Three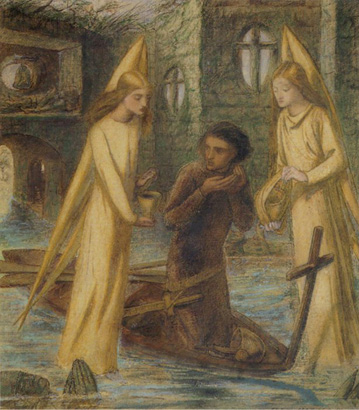 Quest of the Holy Grail, 1855-1857
Ruthless hands have torn her
From one that loved her well;
Angels have upborn her,
Christ her grief to tell.
She shall stand to listen,
She shall stand and sing,
Till three winged angels
Her lover's soul shall bring.
He and she and the angels three
Before God's face shall stand;
There they shall pray among themselves
And sing at His right hand.
Dead Love
Oh never weep for love that's dead
Since love is seldom true
But changes his fashion from blue to red,
From brightest red to blue,
And love was born to an early death
And is so seldom true.
Then harbour no smile on your bonny face
To win the deepest sigh.
The fairest words on truest lips
Pass on and surely die,
And you will stand alone, my dear,
When wintry winds draw nigh.
Sweet, never weep for what cannot be,
For this God has not given.
If the merest dream of love were true
Then, sweet, we should be in heaven,
And this is only earth, my dear,
Where true love is not given.
Early Death
Oh grieve not with thy bitter tears
The life that passes fast;
The gates of heaven will open wide
And take me in at last.
Then sit down meekly at my side
And watch my young life flee;
Then solemn peace of holy death
Come quickly unto thee.
But true love, seek me in the throng
Of spirits floating past,
And I will take thee by the hands
And know thee mine at last.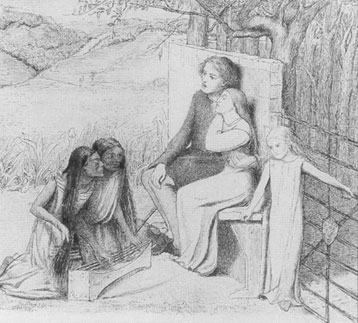 Lovers Listening to Egyptian Girls Playing Music
, 1854
Fragment of a Ballad
Many a mile over land and sea
Unsummoned my love returned to me;
I remember not the words he said
But only the trees moaning overhead.
And he came ready to take and bear
The cross I had carried for many a year,
But words came slowly one by one
From frozen lips shut still and dumb.
How sounded my words so still and slow
To the great strong heart that loved me so,
Who came to save me from pain and wrong
And to comfort me with his love so strong?
I felt the wind strike chill and cold
And vapours rise from the red-brown mould;
I felt the spell that held my breath
Bending me down to a living death.
Gone
To touch the glove upon her tender hand,
To watch the jewel sparkle in her ring,
Lifted my heart into a sudden song
As when the wild birds sing.
To touch her shadow on the sunny grass,
To break her pathway through the darkened wood,
Filled all my life with trembling and tears
And silence where I stood.
I watch the shadows gather round my heart,
I live to know that she is gone –
Gone gone for ever, like the tender dove
That left the Ark alone.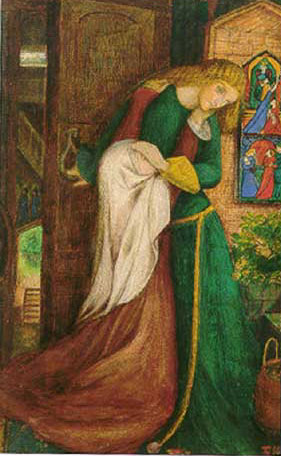 Lady Clare, 1857
Lord May I Come?
Life and night are falling from me,
Death and day are opening on me,
Wherever my footsteps come and go,
Life is a stony way of woe.
Lord, have I long to go?
Hallow hearts are ever near me,
Soulless eyes have ceased to cheer me:
Lord may I come to thee?
Life and youth and summer weather
To my heart no joy can gather.
Lord, lift me from life's stony way!
Loved eyes long closed in death watch for me:
Holy death is waiting for me –
Lord, may I come to-day?
My outward life feels sad and still
Like lilies in a frozen rill;
I am gazing upwards to the sun,
Lord, Lord, remembering my lost one.
O Lord, remember me!
How is it in the unknown land?
Do the dead wander hand in hand?
God, give me trust in thee.
Do we clasp dead hands and quiver
With an endless joy for ever?
Do tall white angels gaze and wend
Along the banks where lilies bend?
Lord, we know not how this may be:
Good Lord we put our faith in thee –
O God, remember me.

Love and Hate
Ope not thy lips, thou foolish one,
Nor turn to me thy face;
The blasts of heaven shall strike thee down
Ere I will give thee grace.
Take thou thy shadow from my path,
Nor turn to me and pray;
The wild wild winds thy dirge may sing
Ere I will bid thee stay.
Turn thou away thy false dark eyes,
Nor gaze upon my face;
Great love I bore thee: now great hate
Sits grimly in its place.
All changes pass me like a dream,
I neither sing nor pray;
And thou art like the poisonous tree
That stole my life away.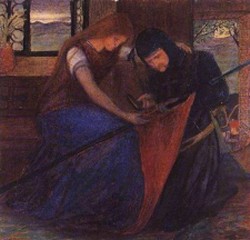 Before the Battle, 1858
Shepherd Turned Sailor
Now Christ ye save yon bonny shepherd
Sailing on the sea;
Ten thousand souls are sailing there
But they belong to Thee.
If he is lost then all is lost
And all is dead to me.
My love should have a grey head-stone
And green moss at his feet
And clinging grass above his breast
Whereon his lambs could bleat,
And I should know the span of earth
Where some day I might sleep.
The Lust of the Eyes
I care not for my Lady's soul
Though I worship before her smile;
I care not where be my Lady's goal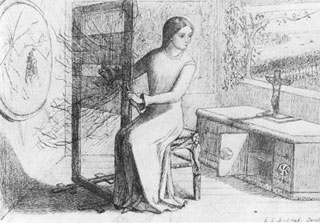 The Lady of Shalott, 1853

When her beauty shall lose its wile.
Low sit I down at my Lady's feet
Gazing through her wild eyes
Smiling to think how my love will fleet
When their starlike beauty dies.
I care not if my Lady pray
To our Father which is in Heaven
But for joy my heart's quick pulses play
For to me her love is given.
Then who shall close my Lady's eyes
And who shall fold her hands?
Will any hearken if she cries
Up to the unknown lands?

The Passing of Love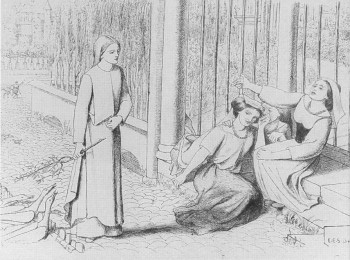 Pippa Passes, 1854

O God, forgive me that I ranged
My live into a dream of love!
Will tears of anguish never wash
The passion from my blood?
Love kept my heart in a song of joy,
My pulses quivered to the tune;
The coldest blasts of winter blew
Upon me like sweet airs in June.
Love floated on the mists of morn
And rested on the sunset's rays;
He calmed the thunder of the storm
And lighted all my ways.
Love held me joyful through the day
And dreaming ever through the night;
No evil thing could come to me,
My spirit was so light.
O Heaven help my foolish heart
Which heeded not the passing time
That dragged my idol from its place
And shattered all its shrine

True Love

Farewell, Earl Richard,
Tender and brave;
Kneeling I kiss
The dust from thy grave.
Pray for me, Richard,
Lying alone
With hands pleading earnestly,
All in white stone.
Soon must I leave thee
This sweet summer tide;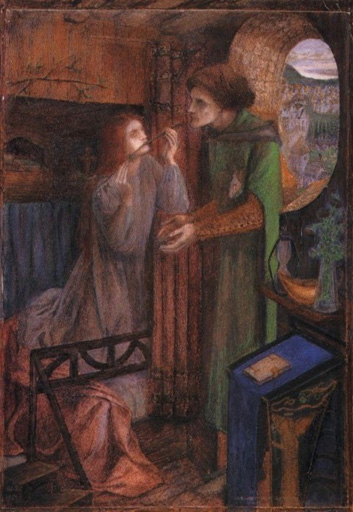 Clerk Saunders, 1857


That other is waiting
To claim his pale bride.
Soon I'll return to thee
Hopeful and brave,
When the dead leaves
Blow over thy grave.
Then shall they find me
Close at thy head
Watching or fainting,
Sleeping or dead

Untitled Fragments

Autumn leaves are falling
About her new-made grave
Where the tall grass bends to listen
To the murmur of the wave.
Laden autumn, here I stand
With my sheaves in either hand;
Speak the word that sets me free,
Naught but rest seems good to me.

Worn Out

Thy strong arms are around me, love
My head is on thy breast;
Low words of comfort come from thee
Yet my soul has no rest.
For I am but a startled thing
Nor can I ever be
Aught save a bird whose broken wing
Must fly away from thee.
I cannot give to thee the love
I gave so long ago,
The love that turned and struck me down
Amid the blinding snow.
I can but give a failing heart
And weary eyes of pain,
A faded mouth that cannot smile
And may not laugh again.
Yet keep thine arms around me, love,
Until I fall to sleep;
Then leave me, saying no goodbye
Lest I may wake, and weep.

Copyright © 2005 EighthSquare.com P.O. Box 580 New York, NY 10113